This week, in St Peter's Church, the people of Shipton Bellinger remembered the men from their community that gave their lives in the two World Wars in an innovative and creative way. The moving display includes perspex Tommy Soldiers, or "ghost soldiers", set alongside the personal stories of the fallen men. Read some of the stories below…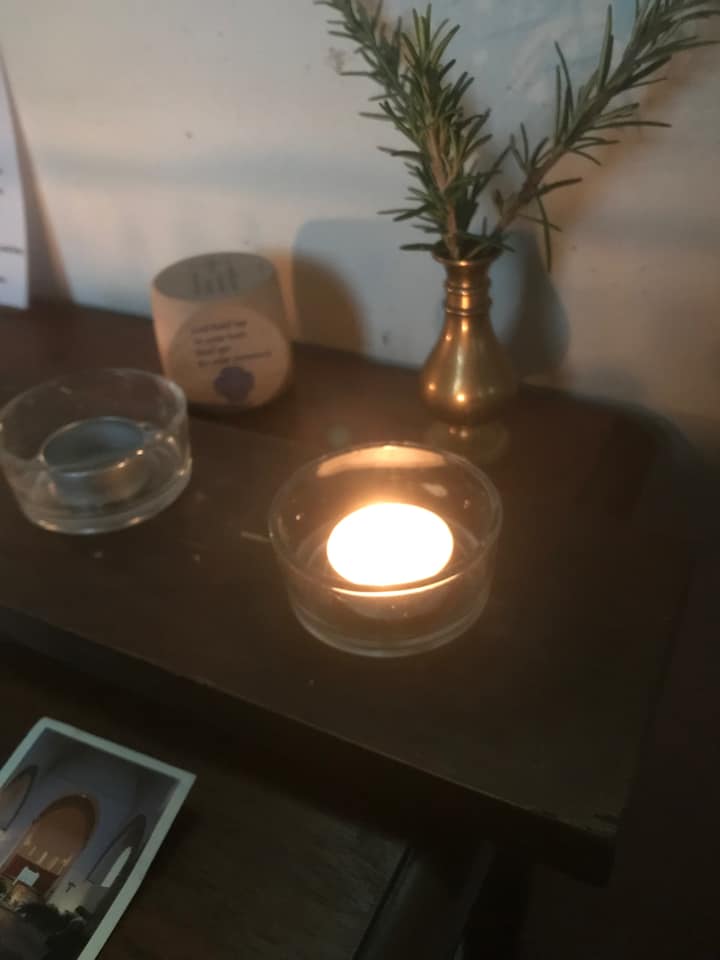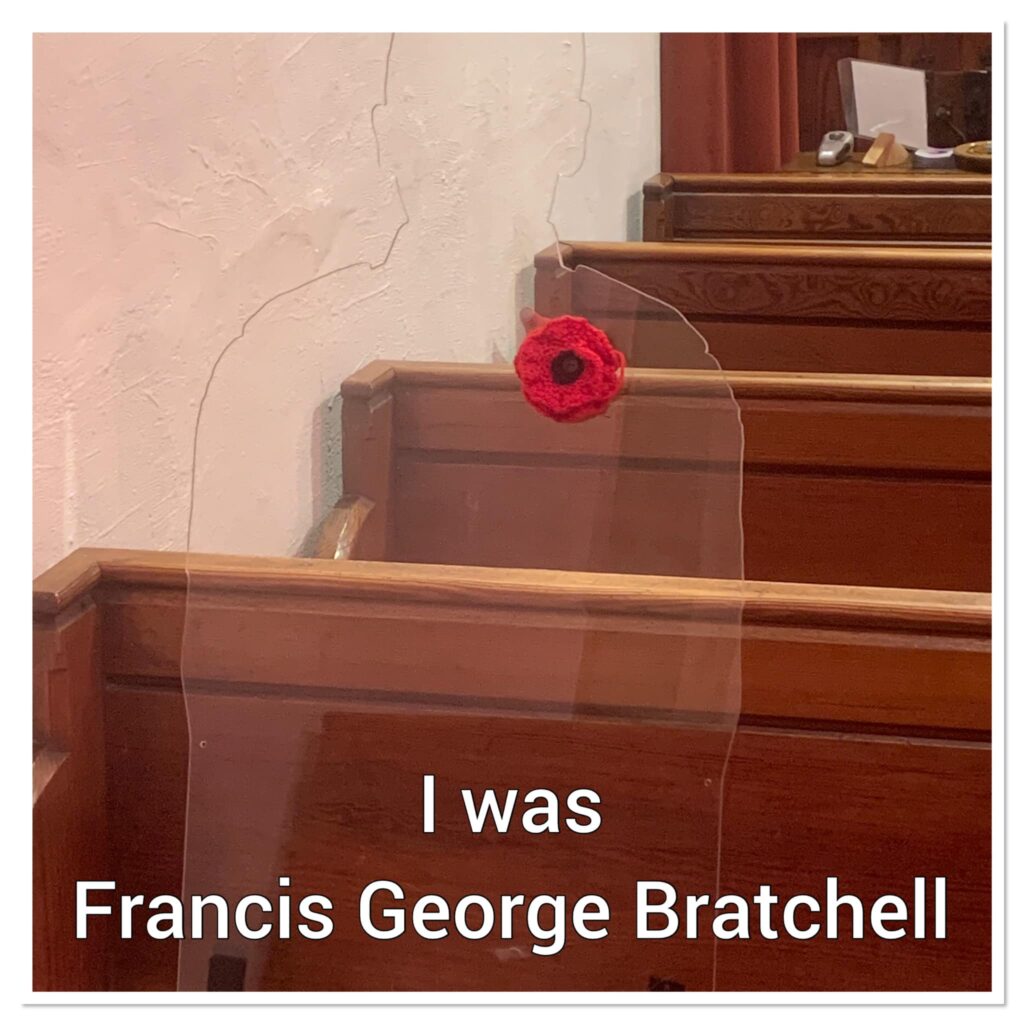 I was Frances George Bratchell. I was born in 1890 in Upper Clatford, the son of George and Martha Bratchell. I was always referred to as Frank and was one of three surviving children; I had two sisters, Elizabeth and Agnes.
My father was employed as a coachman, and the family also lived in Amport before moving to Shipton Bellinger, living at Manor House Cottages.
I enlisted in the military at Dorchester, joining the Household Cavalry, and arrived in France on 23rd November 1914. Six months later I was listed as missing during the second battle of Ypres near Bellewaarde. I have no know grave, so I am listed as missing in acton on the Menin Gate memorial in Ypres. My father had to make an application for the 1914-1915 Star, which was sent to my family on 22nd February 1945.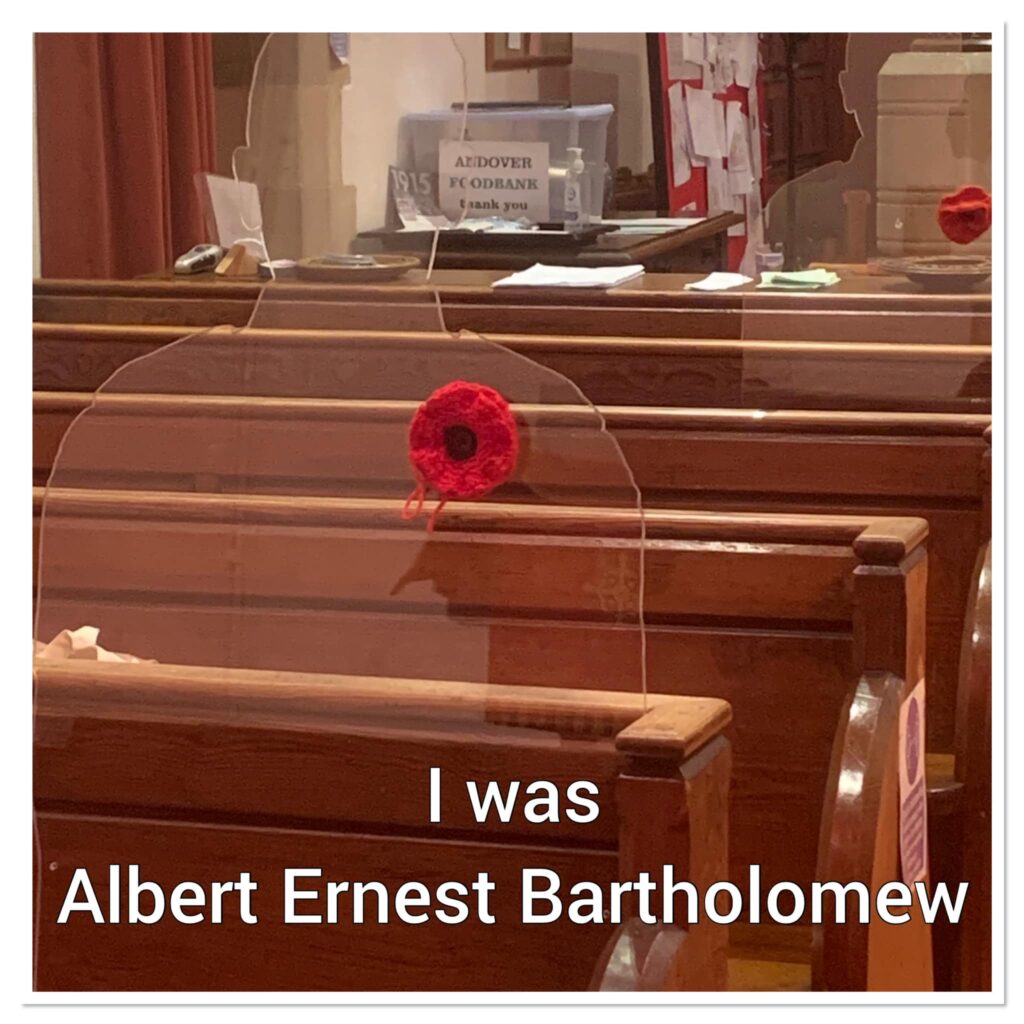 I was Albert Earnet Bartholomew. I was born in 1892 in Amport, Hampshire, the son of Albert and Edith Bartholomew, and I was usually known as Ernest.
My father was a farm worker, and by 1911 the family had moved from Amport to live in Shipton Bellinger. I had two younger brothers, Alfred and Arthur, and they worked at the military laundry in the village, where Kingfishers now stands.
I was employed as a rural auxiliary postman before the war, then I joined the Royal Navy and served on HMS Pincher, a Beagle class destroyer.
HMS Pincher went aground in thick fog on the Seven Stones Rocks of the Scilly Isles, the rocks which were to claim the oil tanker Torrey Canyon in 1967. I was one of 13 of its crew below deck that went down with the ship, and my body was never found. I am remembered on the Portsmouth Naval Memorial.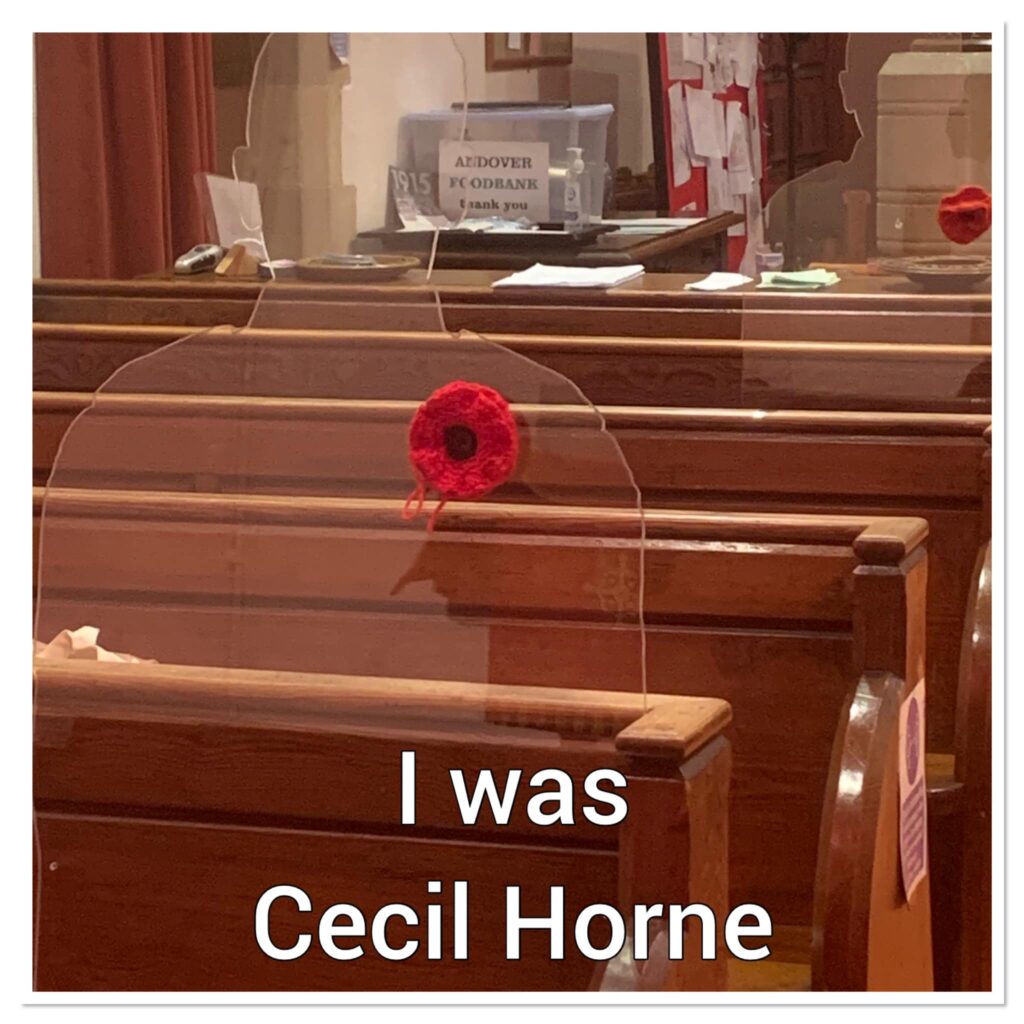 I was Cecil Horne. I was baptised on 4th January 1879 in Thruxton, and my parents were Alfred and Hannah Horne. I was one of 11 surviving children.
Although I was described as being a labourer on the 1911 census, I was also a professional jockey at the Danbury Racing Stables, Hampshire. I can 1st in the 1907 Towcester Steeplechase Handicap, riding "Rubio", the horse who later went on to win the Grand National in 1908.
I died of wounds received during the same action that claimed the life of Walter Hale, near the Hai Ricer, closed to Baghgd in modern Iraq. At the time I was serving in the Wiltshire Regiment, although I also served with the Somerset Light Infantry. I am buried in a remote part of Iraq.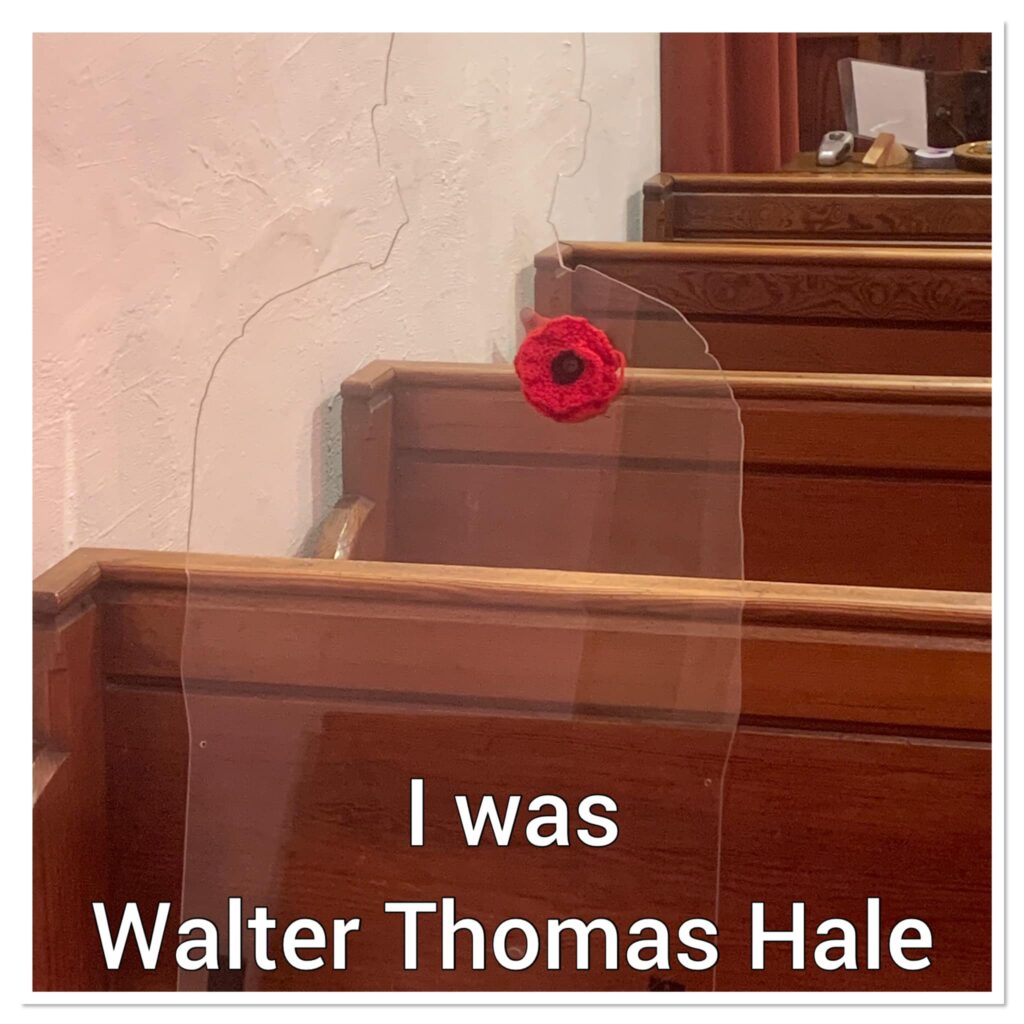 I was Walter Thomas Hale. I was one of eight surviving children born to Thomas and Florence Hale, and was baptised on 31st May 1896 at St Peter's Church, Shipton Bellinger.
The Hale family had been in Shipton Bellinger for many years before the start of the war. My grandparents were living in the village during the early 1800s, and a William Hale was the village shoemaker.
At the age of just 14 I was working as a domestic odd job boy, while my older siblings were employed in the village laundry, which stood where Kingfishers is today. My farther was a domestic gardener and was then employed as a foreman on the county and parish roads.
I enlisted on 30th June 1915 and joined the Wiltshire Regiment and was involved in the Balkan war, but I was killed in the same action as Cecil Horne from the village, near the Hai River, near Baghdad, in Mesopotamia (modern Iraq) on 11th January 1917. I am buried in a remote part of Iraq.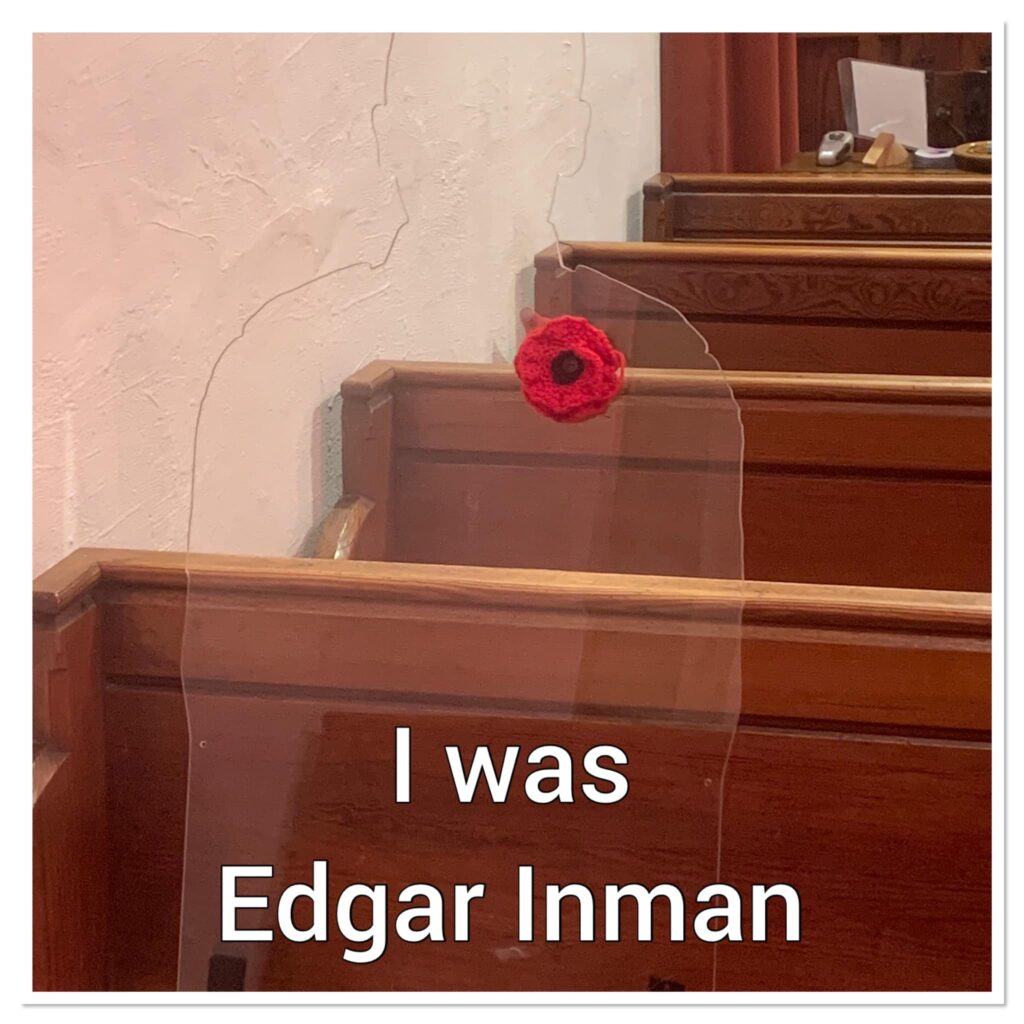 I was Edgar Inman and I was born in 1897 in Bradford, West Yorkshire, and was the only child of Edgar and Henrietta Inman.
At three years old I was living with my parents in Bombay Street, Brandford, where my father was employed as a bicycle marker.
Within a couple of years the family moved from the industrial mill town in the north, to the quiet life of Shipton Bellinger, and I was baptised in St Peter's church on 15 March 1905.
My father became a self-employed photographer in the village, taking photographs of the trips, and he can be found in many local directories as working in Salisbury Road.
I did not volunteer when war was declared, but enlisted in the army when conscription became law in 1916.
I died after the end of the war from wounds received during the Battle of Valenciennes, north of Arras, which began on 1st November 1919, and was the final Allied offensive which continued right until the Armistice. I am buried in the Valenciennes (St Rich) Cemetery in France.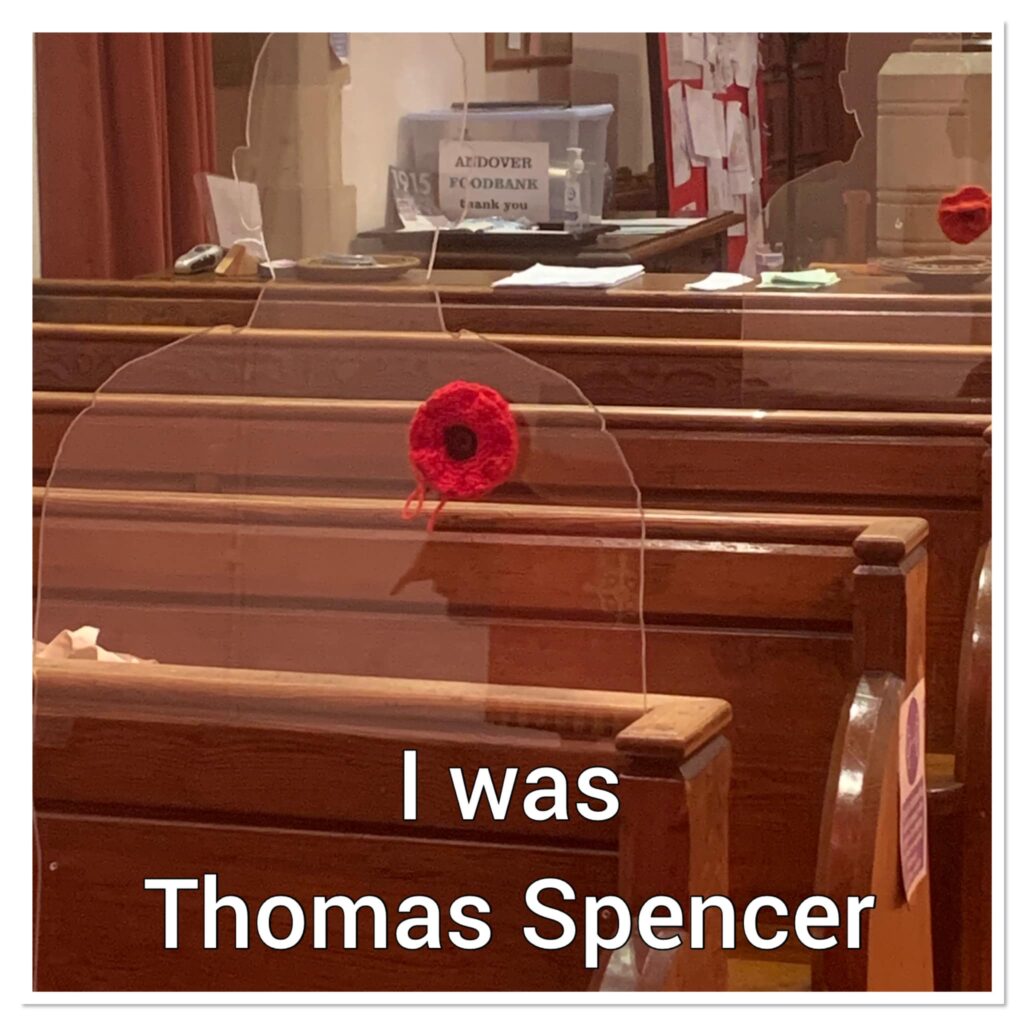 I was Thomas Spencer and I was born in Notting Hill during November 1881, and signed up to the Army on 24th December 1896 at the age of 15 years 1 month, and joined the 3rd Battalion The Middlesex Regiment (Militia).
I then married Alice Maud Silverwood (nee Jefferies) during the spring of 1911. We lived in South Street, Andover while I worked in the Military Canteen at Jellalabad Barracks, Tidworth.
As well as the three children from Alice's first marriage, we had at least two further children before the outbreak of war. Still in my early thirties I would have been liable for national conscription when it was introduced, or I may have volunteered for active service.
With many years of service behind me, I was commandeered to help with the training of all the young recruits eager to join the war effort. My final rank of Colour Sergeant no doubt reflects my prior service.
I died at home in Shipton Bellinger, just before the end of the war, and I am buried in St Peter's churchyard, the only war grave in this cemetery.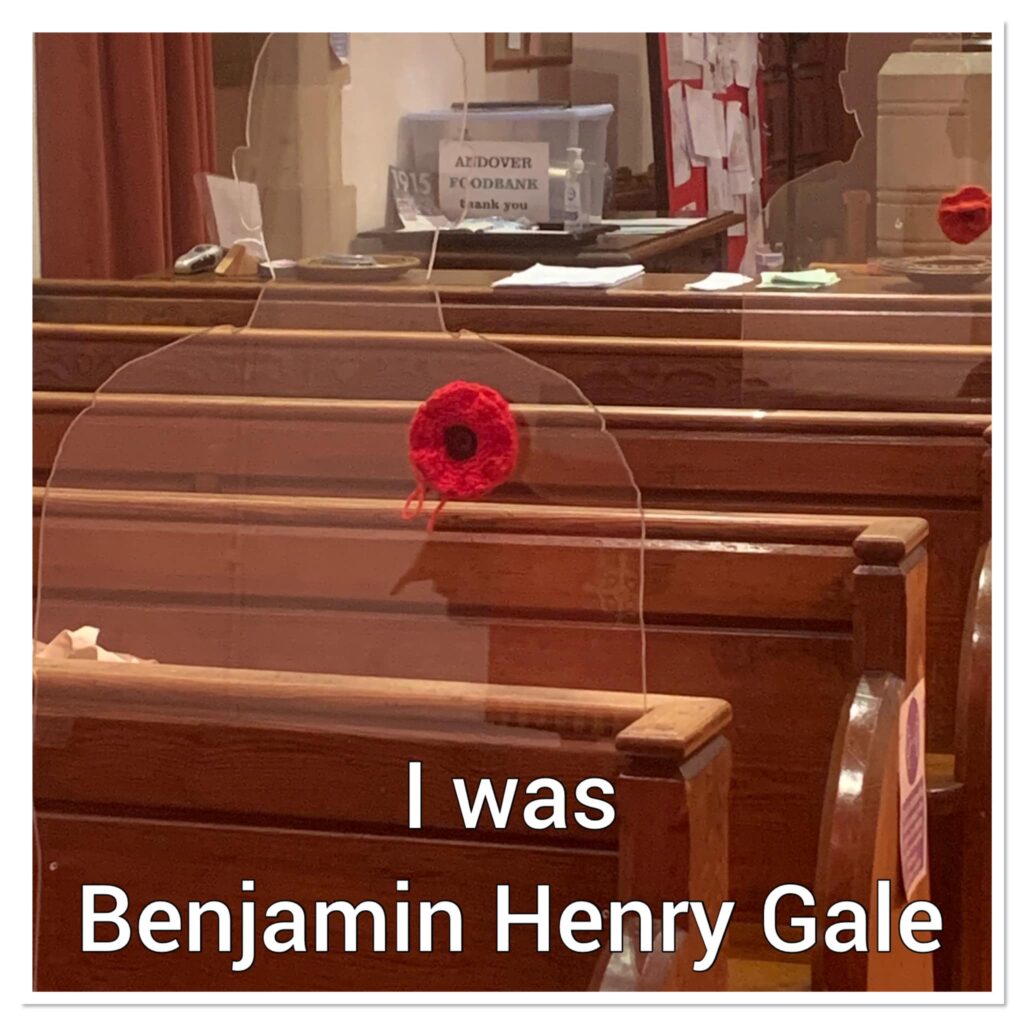 I was Benjamin Henry Gale and I born on 18th October 1894 in Valletta, Malta to Benjamin and Vealyea Gale. My father was a Sapper serving with the Royal Engineers. At the age of 7 I was living in Wallasey with Tom Gale, my uncle who was a Coast Guard for HM Services. My parents and three younger siblings at the time were living at Shornemead Ford in Kent.
In 1911 the whole Gale family were together again living at no. 479 Shipton Bellinger, which is now half of Farthing Cottage (opposite the church). My father was retired from the military but continued to work as a stationary engine-man. I was employed as a labourer at the village laundry, where Kingfishers now stands.
On 7th November 1912 at the age of 18 I enlisted in the Navy for a period of 12 years. My occupation at this time was stated as a store man fireman. I was 5ft 4ins with brown hair and eyes, with a fresh complexion and a scar on the right forearm.
After a period of training on several training ships, I was posted on 4th September 1913 to serve on HMS Queen Mary, a battlecruser. Unfortunately this ship took a direct hit during the naval Battle of Jutland on 31st May 1916, and she sank with nearly all hands, 1,266 died with only 9 survivors.
My body was never found, so I am remembered on the Portsmouth Naval Memorial.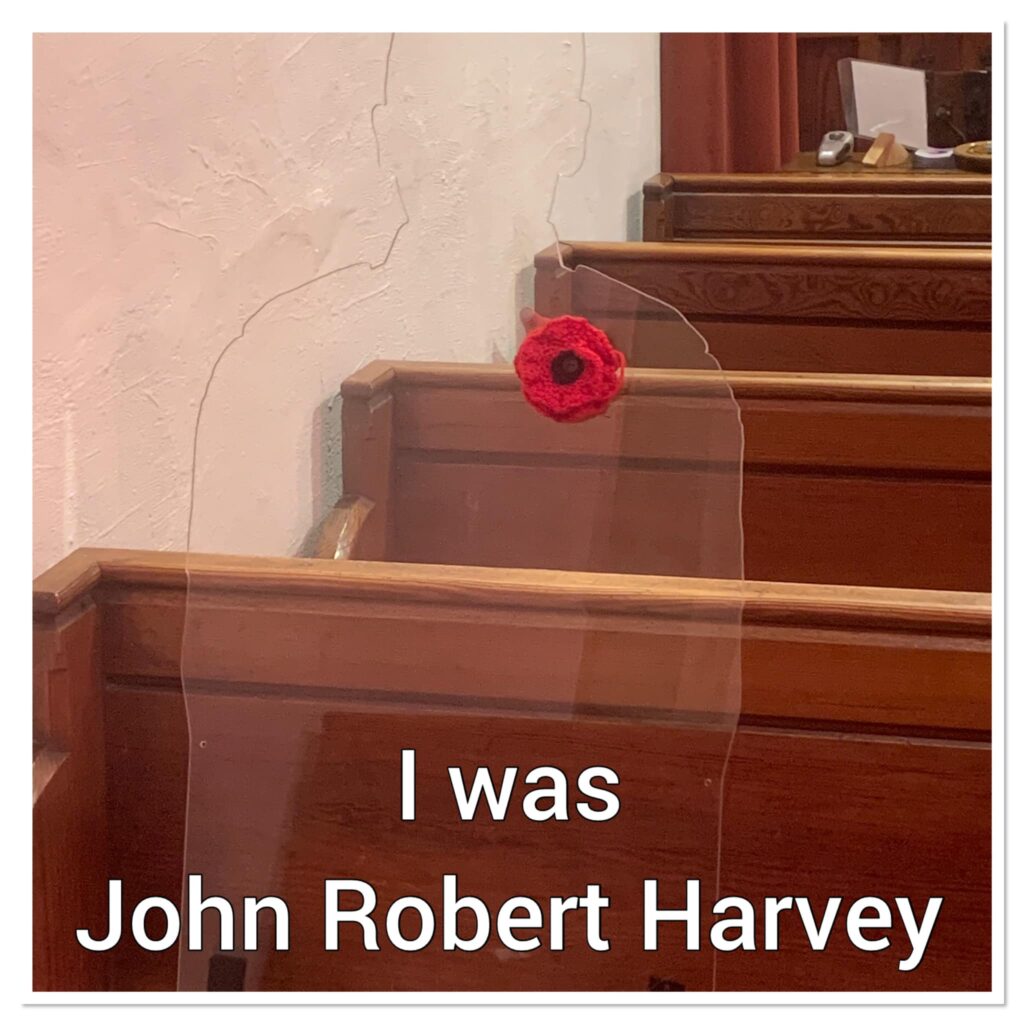 I was John Robert Harvey and I was born in 1899 in Wynberg, South Africa, and was one of nine children born to Robert and Henrietta Harvey, who then went to live at 4 Wilton Terrace for many years.
My father was in the army and served during the Boer war with The Frontier Light Horse (17th Lancers).
Outer family moved frequently with the military, living in Birmingham, York, South Africa, Glasgow and Edinburgh, before arriving in Shipton Bellinger between 1908-10.
I followed in my father's footsteps and enlisted in the army, joining the Wiltshire Regiment. I was killed in action holding trenches against the Bulgars at Kalinova, near Thessalonika, close to the Greek and Bulgarian border. I am buried in the Karasouli Military Cemetery.