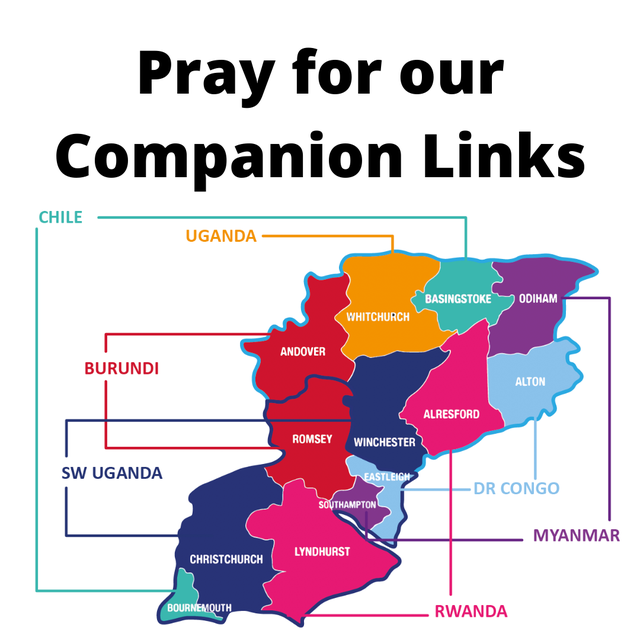 We are continuing to sustain contact with our Companion Link provinces in Latin America, Africa and Asia. Bishop Tim is in regular contact with the Archbishops to keep up to date with the present situation in their countries and communities and to share requests for prayer in response to the COIVD-19 pandemic.
Bishop Tim would like to encourage deaneries and parishes across the Diocese to continue regularly communicating with the linked dioceses as part of our Diocesan commitment to being prophetic global citizens.
We have provided the provincial updates below to guide us in our prayers for our Christian brothers and sisters across the world. We also have the Diocesan Cycle of Prayer designed to help us channel and develop our primitive prayer responses so that we become both intentional and focused in our praying for others.
You may also be interested in this recent opinion piece from the Financial Times – Only victory in Africa can end the pandemic everywhere – exploring the response to the virus outbreak in Africa.
Chile
---
The most significantly impacted country of all our Companion Link provinces, with more than 49,500 reported cases and over 500 deaths (Chilean Health Ministry).
The major cities in Chile are in total lockdown and there has been social unrest in response to the Government implementing this and limited supply of food and access to healthcare for an already vulnerable population (BBC).
Please pray for Chile as they prepare for a peak and surge in the spread of the virus.
Uganda
---
The country has been in lockdown for more than 50 days, this includes all public religious gatherings and schools. There are currently 264 reported cases and no deaths (Ministry of Health Uganda). The presence of the virus appears to be declining, please pray that this continues and the impact on the country remains small.
Archbishop Stephen has been posting regular devotions and online services on the Church of Uganda YouTube Channel and Facebook Page as well as updates on how the church is supporting local communities across the country during the pandemic.
In Mityana, with all schools closed, families are struggling to provide food for children who would usually be provided with meals at school children. A rise in unemployment and there being no food yet to harvest during the current growing season, has exacerbated the food access issues.
Rwanda
---
Rwanda has had the countrywide lockdown lifted and the number of confirmed cases remains low at 308 and no reported deaths (Ministry of Health Rwanda).
Like most other countries, Rwanda has placed a ban on international passenger travel in and out of the country, implemented restricted movement of people within the country and stopped social gatherings meaning church services are not taking place.
Burundi
---
The General Election for a new President and the National Assembly still went ahead on 20th May – please pray for sustained and lasting peace in the country.
The number of confirmed COVID-19 cases remains low at 42 with only 1 reported death (Burundi Ministry of Public Health). There are concerns about the limited access to humanitarian aid in some quarantined areas of the country.
Keep up to date with the Anglican Church of Burundi via their Facebook page.
DR Congo
---
In addition to the recent Ebola crisis in the DRC, which the country is still recovering from, there has been a large increase in reported COVID-19 cases, at 1,731 and 61 deaths (CMR COVID-19).
The country is also currently experiencing an outbreak of measles which has witnessed more than 42,000 cases in first 12 weeks of 2020. More than 350,000 cases and 6,500 deaths overall since January 2018.
Please pray for relief from disease in the DRC and the extreme pressures it places on healthcare and the population, particularly young children.
Myanmar
---
There have been 193 cases confirmed and 6 reported deaths according to the Ministry of Health and Sports.
Like most countries, there is no public worship in churches and clergy are offering online services where possible in areas with internet connection. At a provincial level, the Church is actively involved in supporting the Ministry of Health and Sport through the COVID-19 volunteer team, regionally and nationally. Archbishop Stephen can be seen in the image above briefing youth volunteers.
In Paletwa, in the west of the country, intense fighting between government troops and an ethnic armed group has resulted in large displacement of people. There are real concerns about food supply and access to the area due to roads being cut off during the fighting.
More than 1,000 Anglican members and other Christians as well as non-Christians are currently taking refuge in the Diocesan compound and nearby places in Paletwa, please pray for peace and an end to the fighting. This is in addition to the already long-term displacement of 350,000 peoples (mainly Rohingya) who are at increased risk from COVID-19 with no access to healthcare.