Thy Kingdom Come 2019 - The Highlights
---
What is Thy Kingdom Come?
---
A Global Call to Prayer
'I cannot remember in my life anything that I've been involved in where I have sensed so clearly the work of the Spirit.'
- Archbishop Justin Welby
---
Thy Kingdom Come is a global prayer movement, which invites Christians around the world to pray during the 9 days between Ascension and Pentecost (30th May – 9th June 2019). What started out as an invitation from the Archbishops of Canterbury and York in 2016 to the Church of England, has grown into an international and ecumenical call to prayer. We focus on praying two prayers: The Lord's Prayer and 'Come Holy Spirit'. The wave of prayer culminates with celebration beacon events on Pentecost Sunday around the world.
Be Part of Thy Kingdom Come 2019!
It's not too late to join us for this year's Thy Kingdom Come. Share this video to encourage people you know who may want to get involved but don't know about Thy Kingdom Come yet.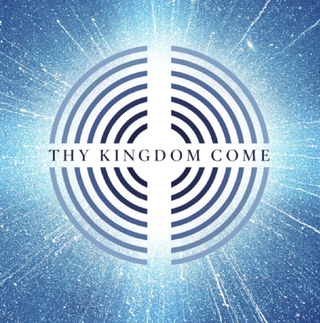 Resources for Thy Kingdom Come 2019.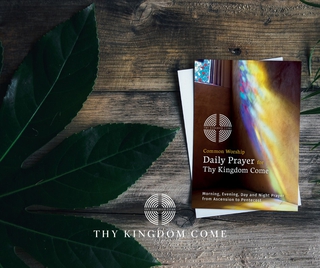 Visit your church and pick up one of the NEW Thy Kingdom come prayer booklets, prayer journals or Novena booklets.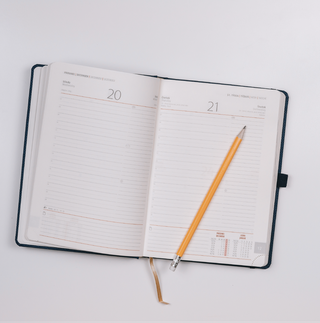 Let us know what you're planning for TKC. Use these resources and stories to help you create a fantastic TKC event calendar by working together.
---
5 Ways your church can get involved in Thy Kingdom Come
---
Thy Kingdom Come around the Diocese of Winchester
---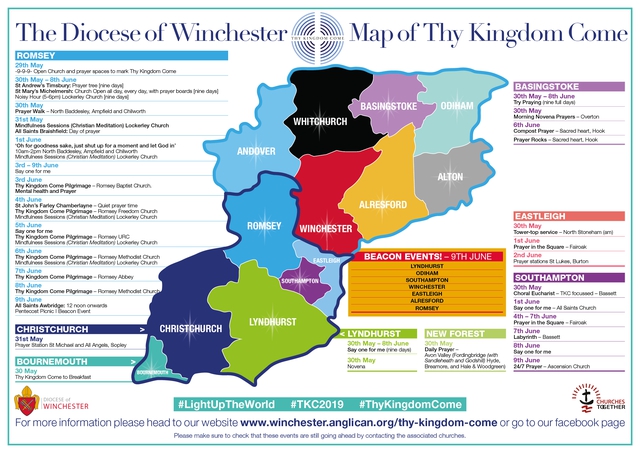 ---
Other Events
---
30 May - 1 June: Two One Six Zero | 36 hours of Prayer - All Saints' Hall, Milford on Sea
30 May - 9 June: Prayer Walking - All Saints' Hall, Milford on Sea
31 May: Prayer for our community | 10:30 - The Cairn, Crown Hill, Alton
31 May: Soul Space | 8:00-16:00 - St Peter's, Yateley
31 May: Night Prayer | 20:00-20:30 - St Peter's, Yateley
31 May: Praying the Papers | 16:00 - The Ivy House, Alton
1 June: Prayer for our community | 10:30 - The Public Gardens by the Bandstand, Alton
1 June: Prayer Breakfast - All Saints' Hall, Milford on Sea
1 June: Guided Prayer Walks | 8:30-9:30 - All Saints' Hall, Milford on Sea
2 June 17:00- 9 June 8:00: 24/7 Prayer Room (with prayer stations) | Bentley, Binstead and Froyle
3 June: Praying the Papers | 16:00 - Costa Coffee, Alton
3 June: Prayer for our community | 10:30 - Alton Community Hospital
4 June: An Hour of Prayer | 20:00-21:00 - Alton Maltings
4 June: Prayer for our community | 10:30 - Holybourne Recreation Ground, Alton
5 June: Prayer Time | 19:00-19:30 -East Worldham Church, Northanger Benefice
6 June: Prayer Time | 19:00-19:30 - Selbourne Church, Northanger Benefice
6 June: Prayer for our community | 10:30 - Beech Village Hall Recreation Ground, Alton
6 June: Guided Prayer Walks | 14:00-15:00 - All Saints' Hall, Milford on Sea
7 June: Prayer Time | 19:00-19:30 - Hartley Mauditt Church, Northanger Benefice
7 June: Friday Fun Prayeroplane Party | 16:30-17:30 - All Saints' Hall, Milford on Sea
7 June: Prayer for our community | 10:30 - Wootey's Way Shops, Alton
8 June: Prayer for our community | 10:30 - Market Square, Alton
9th June: Beacon Event | 16:00 - Ringwood Benefice
9th June: Beacon/Pentecost Event | 6:30 - Alton Churches Together, Alton Maltings