Download the App
The app is ideal for anyone to use daily in Lent – starting from Ash Wednesday and finishing 40 days later on Palm Sunday.
The 40 daily reflections on The Beatitudes – eight beautiful sayings at the heart of Jesus' teaching – are grouped in eight groups of five days on each beatitude.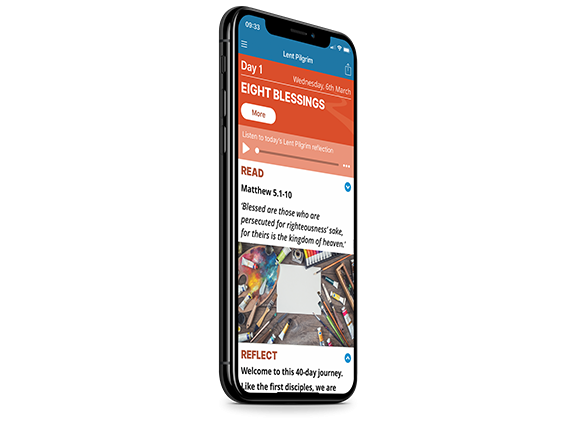 Each day offers you the chance to listen to and read:
A theme linked to the beatitude
A suggested short Bible reading that explores that theme
A short reflection by Steven Croft
A suggestion of how to pray
A prompt to act.
Across each group of five days, LentPilgrim explores what each beatitude tells us about Jesus, what it tells us about a vision for human life and the life of the Church.
From Monday 15th April, the app offers simple daily explanations of the events marked in Holy Week, together with a daily prayer from the Church of England.
You can also use the app to find details of your nearest Lent and Holy Week Church of England services thanks to AChurchNearYou.com.

Watch Archbishop Sentamu launch our 2019 #LentPilgrim and #EasterPilgrim resources.
LentPilgrim and EasterPilgrim are the Church of England's 2019 Lent and Easter campaigns. Wherever you are, these resources should help your church mark these important seasons in the Church calendar.
What will be available for you to use?
LentPilgrim 40 daily reflections based on the Beatitudes – to run from Ash Wednesday until Palm Sunday.

Full-colour booklet published by Church House Publishing
App for Android and iOS, based on the award-winning 2018 #LiveLent app
Email sign-up for daily content
Social media campaign
Daily audio content for smart speakers, in the app and on the Church of England website
Enhanced interactive content for uses in pilot dioceses preparing for baptism/confirmation

Explainer graphics throughout Holy Week to share the key elements in the journey to Easter Day: Palm Sunday, Maundy Thursday, Good Friday, and Easter Day
A bridge to EasterPilgrim – with weekly content shared from Church of England from Easter Day until Ascension based on the Lord's Prayer, making it a great way to prepare for Thy Kingdom Come.
The reflections have been written by Bishop Steven Croft, co-author of the Pilgrim Course.
---
Don't forget to let us know about your events.
Simply make us a co-host on facebook.