MINISTRY EXPERIENCE SCHEME
---
We are now accepting applications to start in summer/autumn 2019.
If you're interested in exploring discipleship, vocation and leadership in a church setting - please get in touch with the MES Administrator on 02380559074 or office@ascensionsouthampton.co.uk
If you're interested in exploring pioneer ministry, missional leadership and personal discipleship - while living together with others in a community mission house - please visit www.sopioneer.co.uk or email hello@sopioneer.co.uk
We look forward to hearing from you!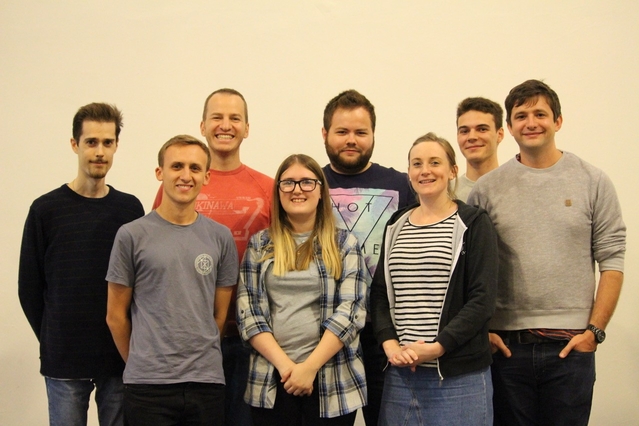 Exploring Your Vocation
---
We're looking to recruit up to six young adults (aged 18-30) who are excited about the possibility of exploring their calling and vocation through a year volunteering as Leadership Assistants with a diverse group of churches in Southampton and the surrounding area.
This year will give you practical experience in parish ministry, church leadership, community engagement, pioneer mission and fresh expressions of church. This year will also offer you opportunities to learn and develop in personal discipleship and missional leadership - including one-to-one supervision, small groups, and the opportunity to receive weekly teaching in Christian theology and missional leadership through St Mellitus College.
We welcome applications from all, however we are aware that women and people of ethnic minorities are currently under-represented in the Church of England, so we particularly encourage applications from these groups. We also particularly encourage applications from people interested in exploring pioneer ministry (see below for more information).
Our scheme is based in Southampton Deanery, overseen by the Diocese of Winchester's School of Mission, supported by the Church of England's national 'Ministry Experience Scheme' – and is completely FREE to join!
What Can We Offer You?
---
Free accommodation (usually with a host family in your placement)
A monthly allowance (plus all ministry-related expenses)
The opportunity to study the exciting Level One 'Theology, Ministry & Mission' course, streamed from St Mellitus College in London http://www.stmellitus.org/course/ba-hons
Regular supervision and support from your Placement Supervisor (usually a vicar or pioneer minister in your context) and the CEMES team.
Regular opportunities to meet the Diocesan Director of Ordinands and the diocesan Young Vocations Champion, to help you explore the possibility of ordination.
The chance to experience life and ministry in the Church of England, equipping you for your future life and ministry wherever you find yourself.
We are always working to develop further opportunities. Some of these are still to be confirmed, but we hope to be able to offer you: a creative arts retreat, a weekend stay at friary, joining the HTB Leadership Conference, and a week-long pilgrimage with the Bishop of Southampton to the Taizé Community in France.
Is God Calling You?
---
Are you keen to discover more about God's call on your life?
Are you excited about developing your gifts and skills?
Do you want to share your faith with others?
Are you willing to serve the church in a parish or pioneer context?
Are you interested in exploring the possibility of ordination?
Do you want to learn more about your part in the mission of Jesus?
Are you aged 18-30?
Are you available to live in Southampton from September to July?

Placements
---
Leadership Assistants will be based in a placement parish or pioneer context in/around Southampton, living within the community and working alongside the local leadership team. Our placement options vary each year, but to give you a flavour of our opportunities, some of our recent Leadership Assistants have been based in the following parishes:
As part of a wider training cohort, you will also gather weekly for study, reflection and prayer together with the other Leadership Assistants, and have opportunities to work together on bigger/ecumenical projects across the city. You will also have opportunities to explore your vocation and the possibility of ordination through regular meetings with the Diocesan Director of Ordinands and the diocesan Young Vocations Champion.
Pioneer Ministry
---
This year we are launching a focused Pioneer stream within our wider Ministry Experience programme, in partnership with Southampton Pioneer Connection.
Southampton Pioneer Connection is a new initiative under BMO (Bishop's Mission Order) seeking to resource and release lay and ordained pioneers and to nurture the development of new Fresh Expressions of Church throughout the city. SPC is focussed on creative community engagement and innovative approaches to mission, particularly among unchurched people (ie, those with no church background) and the 'missing generations' (ie, those aged between 18-40).
If you are interested in exploring pioneer ministry, fresh expressions of church, and mission on the edge, we would love to hear from you. Each Pioneer Leadership Assistant will be supervised by an Ordained Pioneer Minister, based in either our eastern or western Local Pioneer Hub, and volunteering with a particular pioneering project (eg, Monty's Community Hub) or a parish which is exploring fresh expressions of church.
Our whole team supports the development of pioneering mission and fresh expressions of church, and we are committed to helping all our participants explore pioneer ministry! However, in addition to the opportunities offered to all our participants, our Pioneer Leadership Assistants will benefit from a number of extra opportunities too!
Theology Training
---
As a Leadership Assistant, you will have one day a week dedicated for study, prayer and reflection. This will include spending time in personal prayer and reflection, meeting and eating with the other Leadership Assistants in your cohort, exploring your development and discipleship with your Personal Development Coordinator, and engaging with an exciting course of training in theology and missional leadership streamed from St Mellitus College in London.
St Mellitus College is one of the most exciting and innovative centres of theological study and training for missional leadership in the UK, having emerged from a partnership between Holy Trinity Brompton and the North Thames Ministerial Training Course in 2007. Reflecting its broad roots, St Mellitus emphasises the importance of having a 'generous orthodoxy' and working with all kinds of Christians and denominations, so that together we can see the Holy Spirit's transforming power at work in the church and the world.
We will be streaming weekly lectures from the 'Theology, Mission & Ministry' degree course – delivered by a range of world-class scholars, first-rate practitioners and visiting professors. This exciting course will help you to explore your faith more deeply, challenge you to think about how the church needs to adapt to a fast-changing world, prepare you for a variety of church ministries, and equip you with the skills needed to pioneer new churches.
The core modules will include 'Foundations for Theology and Reflective Practice' and 'Introduction to the Bible'. Further details of the curriculum are available from: http://www.stmellitus.ac.uk
Teaching will take place on Tuesday evenings from 7pm, during term time.
All teaching sessions will begin with a short time of prayer and worship, and will be led by members of the CEMES team with support from parish/diocesan staff. The evening course will also be open to people beyond the CEMES scheme (including others exploring ordained or lay ministry), which will enable us to explore and reflect on the issues raised among a wider group of people of diverse ages and backgrounds.
Application Form
---
In relation to application please note the following:
Due to the nature of the scheme, there is a genuine occupational requirement for each participant to be a Christian.
There is no formal closing date for applications. Instead, when we've received your completed form and references, you'll be invited for an informal interview in Southampton. Once all the places are filled, we won't be able to accept any more applications, and a notice will be placed on this page.
As a general rule, we are unable to pay travel expenses for those wanting to attend an interview. However we do have a discretionary fund, which enables us to offer assistance if the travel costs would otherwise present a legitimate obstacle to your attendance. Please let us know if this is the case.