2018 Graduation Address: Transitions in Mission and Ministry Bishop Tim Dakin
---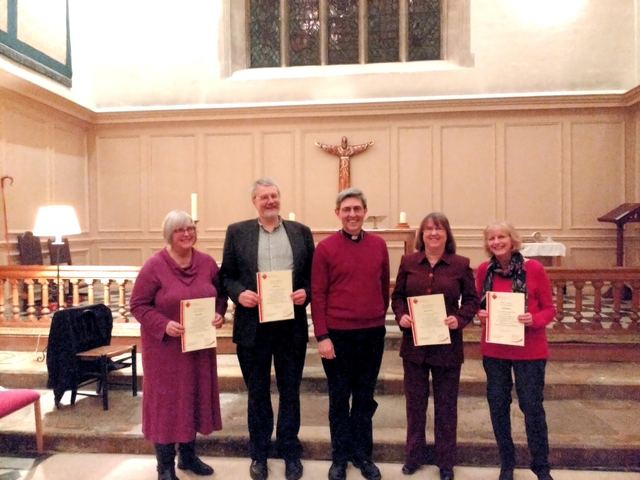 Introduction
Many congratulations to all those who have graduated from Durham and the School of Mission and have transitioned into Licensed Ministry. My congratulations and thanks also to those who have taught them, having established the Durham programme to enable this. And lastly, my thanks to those who have supported them: their congregations, ministers and family. My emphasis tonight will be on transitions.
The young church transitioning in a challenging world
I begin with a quotation from a new book on the Early Church of the Second Century. By the way, I hope you've come to realise how important books are for the ministry and mission of this Diocese!
There was a time, nearly two thousand years ago, when Christianity was in its infancy. It possessed very little cultural influence, was weak and frail, and found itself fighting for its life. Theological formulations were imprecise and undeveloped, factions and heresies were dominant, attacks from pagan philosophers were rampant, and the future was altogether uncertain. On top of all this, Christianity was, for the first time, moving forward without the direct guidance of living apostles and still did not yet have a fully formed New Testament canon. (Michael J Kruger: Christianity at the Cross Roads: How the Second Century shaped the Future of the Church SPCK, 2017 p.1)
The theme of this book is that the Second Century was a period of great transition for the Early Church, with sharp disappointments, gradual adjustments, bitter controversies and grave hazards. The struggles were sociological, cultural-political, ecclesiological, doctrinal, and the canon of scripture was still being debated. What's more, they were still working out what kind of ministry they wanted, eg what sort of bishops! And we thought we had it tough. Yet, can you imagine being trained for ministry then?!
However, it was during this time that the bright shining light of one of the greatest teachers of the church emerged: Irenaeus. He is often reduced to the one who fought off the heretics, but he is so much more. He is one of those who began to give stability for the great transition, by articulating what came to be called the 'Rule of Faith', which he believed was 'that tradition from the apostles which is preserved through the succession of presbyters in the churches' (Against Heresies 3.2.2. quoted in Kruger p.137). By then there was a recognition of the significance of ministry as a core aspect of the church's identity.
However, the 'Rule of Faith' was not established by a Pope, because there was no Pope yet. It was established through the communication of Christians and Christian leaders across the Christian communities. Let's not forget that by this stage there were already African, Asian and European expressions of Christianity. However, across this diversity and through communication, maintained especially by bishops, a common understanding and a deep unity were forged in the struggle for identity.
The church with God in the world
It is in this tough context that Irenaeus wrote the words which have become famous and are now used by all kinds of people, including business gurus helping CEOs with their spirituality: 'the glory of God is a human being fully alive'. Now it is wonderful that Irenaeus, a Second Century bishop, is celebrated by management consultants, but let's get the quotation right and let's have it in full:
For the glory of God is a living human being ('man'); and the life of the human ('man') consists in beholding God. For if the manifestation of God which is made by means of the creation, affords life to all living in the earth, much more does that revelation of the Father which comes through the Word, give life to those who see God. (cf Against Heresies 4.20.7. in The Ante-Nicene Fathers Vol 1: The Apostolic Fathers with Justin Martyr and Irenaeus T&T Clark, reprint 1996, p.490)
So we should take our cue from the business gurus and start from where people are, affirming that in creation God is known through the gift of life and that those who are fully alive have a gift from God. In this sense we want to say that the key place in which our faith is expressed and tested is in the way we live it day by day in the world. All ministry within the church is aimed at supporting the witness of the living human being who beholds the glory of God in their daily life.
However, there is more (not least about the beatific vision). There is the need to be grounded in the revelation of God through the Word – through Jesus. It is this grounding, in what might be called the Rule of Faith, the rule of life, that theological education and formation for ministry seek to provide.
So I hope that you have begun to know more of what it was that Irenaeus discovered as the great tradition of the church. I hope you have come to realise that the riches of the tradition are more than having orthodox views in order to fight off the heretics; I hope that you have begun to grasp more of what it means to behold the glory of God through the revelation of Jesus, and thereby be fully alive.
Graduation: Durham and Winchester
For us, graduation from Durham is tied in with graduation from the Winchester School of Mission. Together, we aim to provide the means by which to interpret the great tradition of the Rule of Faith, focussing on how we are responding to the challenging mission context of the 21st Century in Winchester Diocese. Our century and context is perhaps less challenging than the Second Century, and yet it is one in which we are facing many transitions of a similar kind to the Early Church.
It is in this transition context that the Church of England has set three goals for its common life: reimagining ministry; growing the Church; and contributing to common good. I would like to think that the School of Mission has been a bit of a Research and Development Unit for re-imagining ministry. You may have felt like guinea pigs, but at least you're not Second Century guinea pigs! Our hope is that you have a sense of ministry that is related not only to growing the church – because that is really needed – but also a clear understanding of the importance of Christians being involved in contributing to the common good as the key to their expression of Christian witness.
I realise that we have a long way to go to articulate all that we're trying to do, but the important thing is that we've started. We will do more. We hope, for example, to appoint a Professor of Mission who will, in collaboration with Winchester University, take our R&D capacity up a notch or two – we hope to start a Masters in Mission. However, our primary aim is that the School of Mission is a learning community for the whole Diocese, so that we can enable the mission of the whole people of God – enable a mission-shaped Diocese. As we carry on with this project we'll reimagine the nature of theology and of mission.
What about you?
So what about you? What will happen next in your development? Let me suggest that Jonathan Sacks' three questions are useful for all us committed to ministry in support of discipleship in the world. Sacks suggests that, 'Religion survives because it answers three questions that every reflective person must ask. Who am I? Why am I here? How then shall I live? ('The limits of secularism and the search for meaning' 17 May 2012) What's interesting is that Sacks not only asks the questions but is also willing to risk some answers.
It is precisely because we are open to asking the questions but also risking some answers that religion goes on being significant. The return of religion in Europe, and the strange persistence of faith, is about us being genuine in both asking the questions and risking some answers.
For example, the Church of England has made a public commitment to education from a faith perspective. This is expressed in its vision for education subtitled Deeply Christian, Serving the Common Good (2016).Here is a bold commitment to Jesus, to what Irenaeus calls the revelation of the Word. Here is a willingness to talk about a deeply Christian approach to Wisdom, Hope, Community and Dignity as a basis for serving the common good of all. I'd like to think that Irenaeus would be proud of us.
But how will you answer these questions for yourself? In joining the School of Mission you not only became part of the learning community – the R&D department of the Diocese – you also joined an updated version of a Benedictine School of Service. You have been trained for the service of others, yet it is in your personal engagement with Sacks' three questions, and in the risks you take to give your answers, that your service to others will be seen. I therefore need to answer these questions myself.
So for me, the answer to, "Who am I?" can't be that "I'm a bishop". Rather, my answer is that "I'm loved and known by God. He has given me my identity and I know his love personally and also through the love of others like my family and my friends and my colleagues."
"Why am I here?" Again, the deep purpose of my life is connected to the way in which I am called to use my gifts for the service of others, not to achieve the strategic goals of the Diocese, but to ensure that those goals and everyone's gifts are about serving the common good.
"How shall I live?" A rule of life is a really helpful way to work out my response to God amidst all the transitions of today's world. And one of my commitments is to keep on reading. So I conclude with another quotation from the astonishing theology of Irenaeus of the Second Century:
This is our Lord, who in the last times was made man, existing in this world, and who in an invisible manner contains all things created, and is inherent in the entire creation, since the Word governs and arranges all things; and therefore He came to his own, in a visible manner, and was made flesh, and hung upon the tree, that He might sum up all things in Himself. (Against Heresies,1.28.3. quoted in Andrew Linzey:Animal Theology Uni Illinois Press, 1995, pp.10f)
This translation is from a book on animal theology, responding to a 21st Century question drawing on the work of a Second Century theologian. So Irenaeus goes on helping us with 'Living the mission of Jesus'!